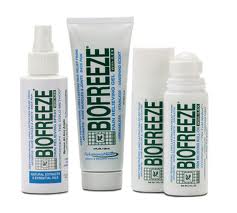 Biofreeze is a pain relief gel that is quickly becoming a popular alternative to traditional pain relief methods. The company offers Biofreeze free samples. To find out how you can get one, check out the company's official site.
The product treats all the common forms of pain you'd typically take Tylenol or other over-the-counter pain relievers for. The advantage of using Biofreeze for many people, is that it is believed to offer virtually instant relief.
Simply apply Biofreeze to the area experiencing minor aches, pains, sore muscles or joints and it starts working right away. The company recently moved to a new formula that includes aloe vera and menthol to ensure Biofreeze helps soothe the skin and relieve pain.
Biofreeze works by causing a sensation that overrides pain signals to the brain. The company calls the process the "Gate Control Theory," in which nerve impulses from one stimulus block the nerves that create pain signals.
The gel is used by chiropractors, massage therapists, podiatrists and physical therapists – to name just a few. If you're thinking about a Biofreeze free sample, the company does provide them.
You'll have to visit the site and fill out a quick online form. From there, the company will provide you a list of healthcare practitioners in your area. Simply visit one of the practitioners and pick up your free sample of Biofreeze.
The gel is non-prescription and can be used up to four times a day.  All FDA required studies, including skin sensitization, drug stability, and many other factors, so you can rest assured your Biofreeze free sample is safe to use.